We got word this afternoon that the Parrot AR.Drone Quadricopter is going to be sold exclusively through Brookstone and is available for pre-order right now for $299.99. Brookstone plans on shipping orders on September 3rd, and the first 300 orders get a free flight bag. (Tempting, I know.) Currently, Brookstone is only willing to ship the Parrot AR.Drone to customers inside of the USA, and optionally available is a $49.95 bundle which includes a additional hull, battery, and an iPhone 3G/3GS case. They're also selling two and three year service plans for $39.99 or $49.99, although it's unclear whether or not breaking your AR.Drone by crashing it in to something is considered "normal wear and tear."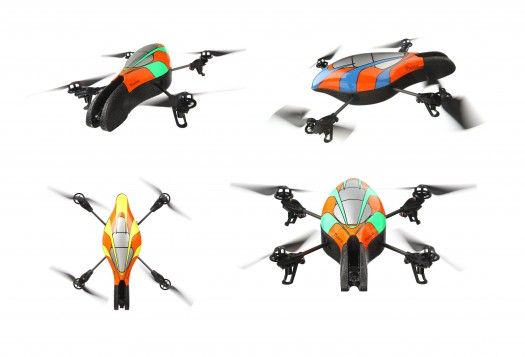 We got our first hands-on at CES 2010 earlier this year and thought it was incredibly cool-
The device is currently controlled using an iPhone/iPod Touch app which communicates through Wi-Fi to the AR.Drone itself. Simply tap on Launch and the AR.Drone takes off and hovers over a stationary spot. On screen controls are easy and effective.

Left/right buttons allow you to rotate 360 degrees in one spot, while up/down buttons control altitude. Pressing on a special button activates tilt-control on the iPhone/iPod Touch itself. This allow you to fly the device by naturally tilting the iPhone itself. Meanwhile, the on screen controls are overlayed with live video coming from the front-facing camera of the Drone itself.

In picking it up for the first time, I found it very easy to maneuver. The main thing I had to get used to was using the drone's point of view to steer, rather than my own. Check out our video:
The Parrot AR.Drone has some serious technology built in to it with its ability to auto-level itself, and pilot itself if it loses the connection with the device you're controlling it with. Remote control helicopters (which require much more skill to fly) sell for upwards of $1,000, making the $299.99 they're asking for everything the AR.Drone is capable of doing seem surprisingly appealing. For more information on the Parrot AR.Drone check out the web site and make sure to take a peek at their gallery of augmented reality games that you can play for the device.
I can't wait to get my hands on one.