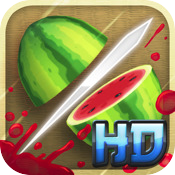 The large screen followup iPad version to the popular game Fruit Ninja has finally arrived. Fruit Ninja is a simple game at its core but one that we really enjoyed
It's a bit of a shooting-gallery type experience but one you are swiping to slice rather than tapping to shoot. You're only allowed to miss 3 pieces of fruit before it's game over — but beware, slicing a single bomb (thrown up randomly) will result in an instant game over.

In fact, it's so simple, that it's hard to explain the appeal. The overall game is put together quite well, and the swipe mechanism is strangely satisfying.
The iPad version supports up to 8 finger swipes across the screen and adds a two player split-screen mode that is featured in the video:

As with the original, global high scores are tracked via OpenFeint. The
iPhone version
also remains available for $0.99 and has sold over
a million copies
.