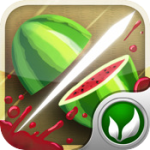 Just last week we reported that Halfbrick Studio's popular iPhone fruit slicing game Fruit Ninja [99¢] had surpassed the 1 million download mark, and that a separate iPad version was on the horizon. Yesterday, a video showcasing the iPad version was released, and it's definitely looking impressive. The screen on the iPad allows for a larger play area and some frantic multitouch slicing, and the beefier processing power ensures everything runs at a silky smooth framerate – even in the new same-device multiplayer mode.
The multiplayer mode looks to be a huge draw for Fruit Ninja HD and it appears that at least one facet to this will be sending bombs over to your opponent, which should make for some heated two player battles. Take a peek at the new video for yourself:
To be perfectly honest, I think the guys at Halfbrick just like to tell their boss they're going to do some "work", dress up in ninja and fruit costumes, and run around a playground all afternoon karate kicking each other. But you can't deny that they've come up with some high quality and humorous trailers for their games, which is always a nice treat beyond just straight in-game footage. This latest video has us really excited for Fruit Ninja HD, which if all goes well should be releasing this week.