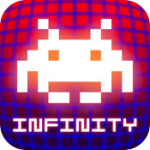 As we reported yesterday, TAITO has been readying an update to their excellent retro rebirth shooter Space Invaders Infinity Gene. If this prospect had you excited to breathe some new life into one of the finest shooters available for the iPhone, then you should be pleased to know that the 3.0 update has already gone live on the App Store. It adds some new content for free with the more enticing stuff being available as downloadable content.
The update includes a couple of new features for all previous owners of the game. A new ship called the Option ship will unlock in the usual manner of filling up your evolution bar through play. The other new feature is the ability to rotate the device sideways and play Infinity Gene like a side-scrolling shooter. Your ship is shown from a side view in this orientation and the enemies are rotated 90º so they look appropriate to the ground. The device can be rotated to this view easily at any time while playing, although it only rotates in one direction and not every level allows for this feature. It doesn't necessarily impact the gameplay too much, but it's a fun novelty.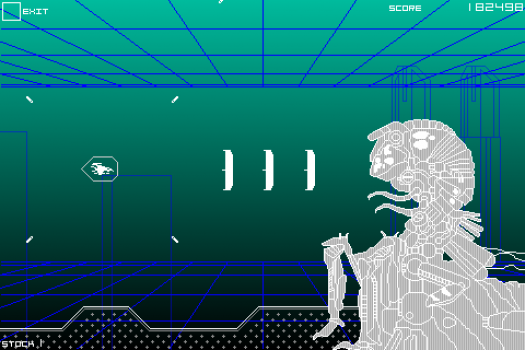 Far more interesting is the addition of 3 new ships available as DLC that are based on previous arcade shooters. There's the Darius inspired ship Silver Hawk, a Night Striker ship named Inter Gray, and a Metal Black ship named Black Fly. Each one has unique attacks and abilities, and fits in well with the other ships that were previously in the game. Along with each DLC ship pack you'll get two brand new stages that are also inspired from each of their respective arcade classics, with new boss fights and retro music rather than the normal techno heavy soundtrack. As an added bonus, by purchasing just one of the DLC packs you'll receive an additional new ship called the Boomerang, and if you purchase all three packs you'll get yet another new ship called the R-Gray2, which is from the game RayStorm.
All together this new update adds some really cool content, but at $1.99 per DLC pack I'm not too sure how many people will be interested. Personally I always thought Space Invaders Infinity Gene was underpriced at $5 to begin with, since it really is such a stellar experience, and so have no problem throwing even more money at TAITO for their efforts. Others simply won't feel the same, and I understand that. At the very least this 3.0 update does offer some new stuff to players completely for free, and you can always choose to stagger the purchasing of the DLC over time, so either way we definitely recommend downloading this latest update.