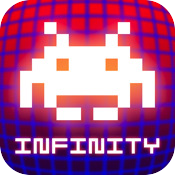 During E3, we met with Taito who revealed a number of their future App Store plans. One of them was a major update to Space Invaders Infinity Gene which adds a new side-scrolling play mode and a new playable ship:
Space Invaders Infinity Gene is getting a huge update, with both free and paid components. Everyone who owns the game will get access to a new ship, and the ability to turn the game sideways to shift the perspective in to a horizontal shooter. In-app purchases will be available to unlock different themes for the game.
A new trailer shows off the new side-scrolling view:

Also included will be DLC theme packs Darius, Metal Black, and Night Striker. Check the video for a peek.