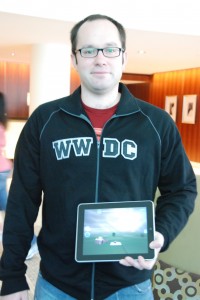 At WWDC 2010, we got a chance to meet up with New Zealand developer David Frampton who had his latest creation in hand to show off. Frampton was a long time Mac developer turned fulltime iPhone developer after the success of his original App Store launch title Chopper. Reminiscent of Choplifter, Chopper put you in tilt-control of a chopper with missions to save your comrades while taking on enemy forces.
After a year in development, Chopper 2 hopes to add a number of improvements to the game. Frampton has worked hard on improving the graphical engine for the game. The sequel offers a 3d terrain over which to fly as well as offering both iPad and iPhone/iPod Touch support. The level designs have also been tweaked by adding a variety of goals. Goals can include saving your men, pick up and drop off goals, as well as defending a structure from spawning enemies. The game comes with 4 different terrains each with 3 different missions. Meanwhile, these 12 missions come in 3 different difficulties offering 36 total distinct levels.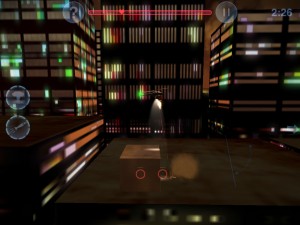 One eye-catching feature that Frampton will be adding to the final version is the inclusion of the Bluetooth remote control that allows the iPhone to act as a controlled for the iPad version.
The game will come in a single universal binary that can be used on either device and includes the remote functionality within. So, a single purchase can be used for both devices.
We shot some video of the current version of Chopper 2 at WWDC. This shows a couple of terrains as well as the Bluetooth iPhone/iPad interaction.

Chopper 2
is expected to be complete in the next couple of months and the base price is going to be $4.99 (Universal) but with an introductory sale.