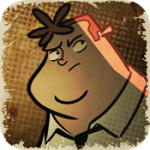 Irish animation studio Straandlooper is really pushing the suggestive limits of the App Store with the first installment of their episodic adult adventure game, Hector: Badge of Carnage [$3.99]. This point and click adventure game (or, more accurately, point and tap I suppose) puts players in charge of Hector, a police officer from the town of Clappers Wreake. The game opens with a fantastically drawn and voiced over animated cut scene which really sets the bar for the rest of the game.
In the first episode, Hector is called in to do some hostage negotiation at a building being guarded by a sniper who has been picking off any policemen who enter his line of sight. Progressing through the game, like any similar adventure game, involves analyzing your environment, picking up items, and combining or using them in creative ways to overcome obstacles. For instance, getting out of the room you start in will require clever use of a old shoe, a spoon, a condom, and a paperclip.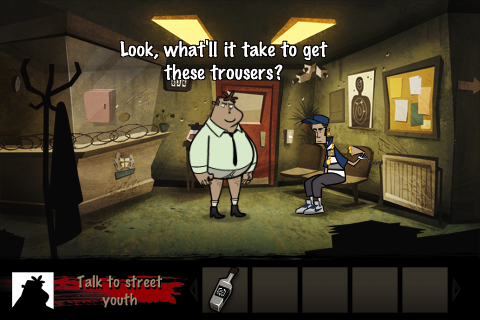 The rest of the game continues in this manner, and aside from manipulating objects you will also need to interact with various characters in game through extensive dialog trees. The first instance of this requires Hector to talk his way in to making a young thug locked up at the police station to quite literally give him his pants. All of this dialog both pops up as text on screen and is accompanied by a voiceover, and the voice work is actually quite enjoyable.
I'm reluctant to mention much more of what happens in the game since so much of these kind of adventure games can be spoiled by mentioning future items or situations you'll find yourself in, what I will say is that Hector: Badge of Carnage will be a joy for any fan of adventure games or suggestive humor to play through. The writing is funny, the things you have to do and the actions required to do them are often hilarious, and the cut scenes are fantastic.
Really, the only down side to Hector: Badge of Carnage is the lack of an easy to use in-game hint system. Playing through the game I sometimes found myself flat out stumped as to what to do next, resorting to just tapping everything imaginable on screen, attempting to combine every item, and/or using every item on every nearby object. I suppose I'm spoiled by The Secret of Monkey Island: Special Edition [$7.99] which comes with a hint system that starts out very vague in attempt to point you in the right direction with additional hints that eventually just flat out tell you what to do– A much better alternative than puzzling hints given to you by your partner Lambert who you need to get to first before you can get any assistance.
The first episode of Hector: Badge of Carnage will likely only take you a few hours to play through, or substantially less if you're constantly looking up what to do next online. Beware, it ends in a cliffhanger, and I really can't wait to see what happens next.