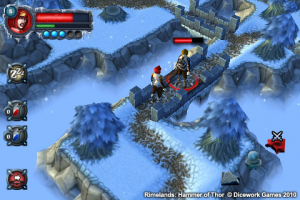 Dicework Games, creators of the steampunk puzzler Diceworks [99¢] in collaboration with Crescent Moon Games, the developers behind both Ravensword: The Fallen King [$4.99 / Free] and the upcoming Ultra Kid: Mystery of the Mutants are nearing the finish line in releasing the first of what sounds like a series of turn-based roleplaying games for the iPhone.
Rimelands: Hammer of Thor is going to come loaded with multiple classes to play as, each customizable with talents. The game world consists of both pre-made and randomly generated levels in a game world that is said to be light-hearted and adventurous while still supporting more epic and serious undertones.
The Rimelands web site is absolutely loaded with information about the game, including lore to set the scene of the Rimelands game world. So far everything we've seen from this new partnership between Diceworks and Crescent Moon has been extremely impressive. The art looks great, the Rimelands universe sounds cool, and the brief gameplay shown in the above trailer has really piqued my interest.
Needless to say, we're going to be following Rimelands: Hammer of Thor very closely.