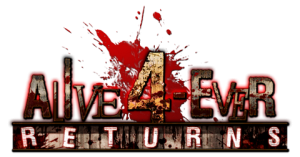 When we first reviewed Alive 4-Ever back in August 2009, we were thoroughly impressed to see a top-down dual-stick shooter finally delivering both the depth and breadth of content that the genre was really calling for. Since then, we have seen an explosion of dual-stick shooters, with only few really exceeding or even matching the standard set by developer Meridian. Fortunately, the release of Meridian's sequel, Alive 4-Ever RETURNS [AppStore] gives us another look at just how a dual-stick shooter should be delivered.
Alive 4-Ever RETURNS introduces 4 new characters who were fortunate enough to escape the infection that seemed to zombify the planet. The storyline (very) loosely ties in their adventure to the gameplay, providing a short bit of context at the beginning of each level. Meridian have completely overhauled the original game engine, bringing each of the new levels to life with 3D props to give both a sense of depth to the world, and also new obstacles to navigate. If we had to distill just one memorable feature of the original engine, it would undoubtedly be the bloody mess left over at the end of each level. Alive 4-Ever RETURNS amazingly improves on this, adding what must be 10 pints of blood to each zombie you mow down, spraying from each lifeless victim in a satisfying (masochistic) manner.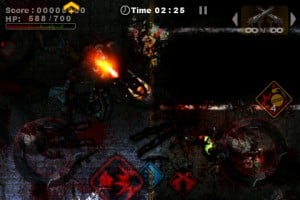 The whopping 40 new levels in Alive 4-Ever RETURNS are also grislier than their original counterparts. Overall, the mood is darker, there is far more environmental eye-candy, and some of the levels are just downright cool to play through (loved tackling zombies on the football pitch!). Together with the standard mission-based challenges of the first game there is also a self-explanatory Survival Mode and new take on gameplay in the form of Horde mode. In this mode you face wave after wave of increasingly difficult zombies, trying to get through as many waves as possible, with your life and ammo replenished after each wave by spawned items. Each of the new game modes puts you in the role of the character from your challenge mode, meaning they can be revisited each time your character grows to attempt greater feats.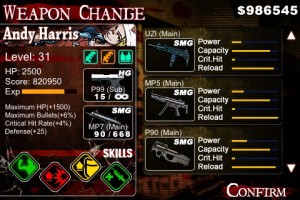 And just as in the first title, there is an impressive laundry list of customization available to your character. The attribute points, equipment slots and the huge armory of weapons featured in Alive 4-Ever make a return, joined by a new skills system. Skills are on-screen button-activated abilities that are made available at certain levels, and give powerful, temporary (but re-usable) boosts to your character. There are 13 skills available which effect anything from health boosts to weapon damage increases, with only 4 slots for skills unlocked as your character progresses. Together with the menu-driven customization, Alive 4-Ever RETURNS also includes a number of new in-game pickups to help you out of tight spots; our favorite easily being the room-clearing dual-wielded handguns, with the new grenade pickups coming in a close second.
Many of the features that made the original great make a return here too, with bonus challenges driving the main source of weapon unlocks and fiercesome, large-scaled boss enemies interspersed throughout the challenge missions. We're also pleased to see that WiFi driven 4-player co-op (with Bluetooth co-op coming in the next update) has been included in the sequel, a feature that was added to the original several months after its release. Competitive types and completionists alike will be pleased to know that the game also makes use of the OpenFeint platform to deliver a full suite of achievements and leaderboards for each of the game modes.

Alive 4-Ever RETURNS
is a faithful zombie-massacring sequel, offering a similar experience to the original title albeit in greater quantity and quality. A number of improvements to both the engine and the gameplay itself have solidified
Alive 4-Ever RETURNS
as much more than just a content update, with some thoughtful touches such as zooming out to see the battlefield when you're not firing or how the gun sounds amplify when a power-up is active really shows how Meridian has really fine-tuned this release.
Alive 4-Ever RETURNS
is easily recommended for dual-stick shooter fans, and a must-have for fans of the original game. There is an enormous amount of content to shoot through here and the levels themselves are challenging, terrific to explore and look great with a whole heap of zombie blood smeared over them.
Be sure to check out the gameplay trailer above which highlights the new additions to the sequel. So far, comments from our readers in our forums have shown their overwhelming enthusiasm for the sequel and its new features.
App Store Link: Alive 4-Ever RETURNS, $1.99 (Introductory sale until first update).