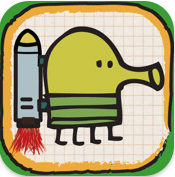 The remarkably popular Doodle Jump [99¢] is officially coming to the iPad, according to Lima Sky's Igor Pusenjak. They've actually been hard at work on the iPad version since they first got their hands on the devices, but instead of simply rushing a high resolution version of the same game to the App Store, the Pusenjak brothers are experimenting with all kinds of different graphics sizes, screen orientations, and features for a truly great Doodle Jump iPad experience.
In other news, Doodle Jump has been downloaded over 4,000,000 times so far, easily making it one among the very best selling games on the App Store. Lima Sky also has updates planned over the next three months to add even more awesome stuff to the game.
If you're somehow unfamiliar with Doodle Jump, you simply must check it out. Doodle Jump is an extremely simple tilt-controlled jumping game that is both easy enough to be fun for casual players in the early game, and challenging enough to allow for a hardcore ceiling of online high scores that reach in to the millions.
App Store Link: Doodle Jump, 99¢