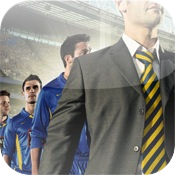 Football Manager is a brand name that extends right back to the very first concept of the round-ball management simulator in the early 80's. In recent years, Sports Interactive has grown the franchise into a title that is consistently (and arguably) the most authentic of the batch and if nothing else, certainly enjoys the most faithful following. To date the iPhone has been the subject of a number of smaller titles in the genre, but nothing has quite made a splash like the release of Football Manager Handheld 2010 [AppStore].
The hallmark of the bigger football management simulators is without a doubt the staggering extent of official licenses included in the game. Football Manager Handheld 2010 supports updated teamsheets for 34 leagues in 11 countries; an impressive amount of statistical data to hold in the palm of your hand. The Football Manager franchise is especially well known for its professional, orderly and clean layout; and we're delighted to see this has been successfully carried over to the handheld adaptation.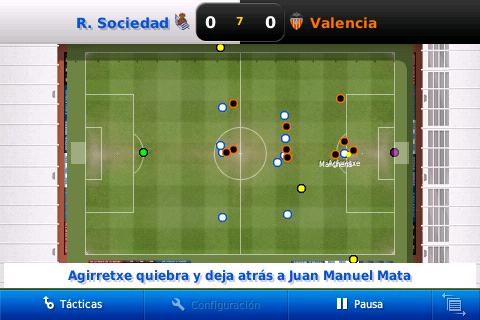 One would expect that in order to cram a feasible management sim onto the iPhone, a sizeable trimming down of features would have to occur. Though there has been a little slimming, the majority of content and features– certainly much more than we anticipated– has been retained in full. To cut down on the size, Football Manager Handheld 2010, however, does do away with player portraits and the glossy 3D game engines the last iteration of management sims have been known for. Game highlights only are portrayed in the traditional 2D full-pitch view, so that goals and set-pieces (and gruelling shots-on target that always seem to hit the woodwork) can all be visualized. The rest of the match is played out through text commentary with visual aids to assist you in keeping track of morale and momentum. Match tactics like substitutions, formations, team mentality and also specific strategies (such as the Offside Trap), can all be changed through the Tactics menu during a game, to offer that minute-by-minute control needed to overcome the best tactical minds and teams in the business.
Of the features omitted, the most sorely missed is undoubtedly the customization of individual plays and the ability to create your own formations. When one factors into it the processing undoubtedly needed for the former, and that there are 17 preset formations included to satisfy the latter, it's not that big a deal though. The new touchline instructions added in the PC version of 2010 won't be found here either; though as this was a feature added ultimately to support the 3D match engine, its omission is not unexpected.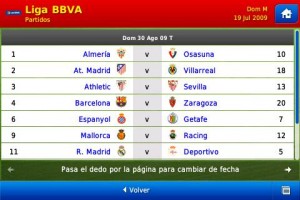 To accomodate the issue of portability and the presumably shorter play sessions, Football Manager Handheld 2010 puts more focus on squad management than overseeing staff or stadium facilities. Scouts and assistant managers perform their duties diligently but cannot be replaced. There is still a constantly nagging board to please, who vigilantly watch your performance and spending and are more than happy to replace you though. Though some may disagree, we appreciate the refocus on what's really important in the handheld addition, and the essence of Football Managerdefinitely remains — the sheer depth of control and attention to the very finest detail.
There is potentially more gameplay to experience here than in your entire game library, particularly if you're trying to promote a lowly League club to Premiership level. Coupled with the large licensed player and team rosters that are accurate up to the latest transfer window (with minor omissions noted by readers), Football Manager Handheld 2010 is an authentic port that should have football management enthusiasts champing at the bit. For those that have never played a football sim before, we do recommend caution, as the game is ultimately designed for those who already know their way around (particularly where the football stat lingo is concerned) and already enjoy the genre. If you're eager to try it out though, SEGA have thoughtfully released a free companion application to show you the ropes.
Favorable impressions from our readers have been pouring in to our forums. It has been noted by several readers too that your own music can be played Football Manager Handheld 2010, but only after turning off the in-game sounds in the game options. 1st Generation iPod Touch users should be warned that performance is particularly sub-par on this device, with excessive load times hampering gameplay according to user, ITRocks.
App Store Link: Football Manager Handheld 2010, $9.99 and FMH Manual, Free (Instruction Manual).