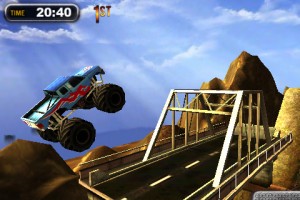 While the first installment of Monster Trucks Nitro was pretty successful, it left a lot of people underwhelmed. For such a hotly anticipated title, the poor framerate, dull tracks, and an extreme difficulty failed to deliver anything more than a mediocre experience. Now, a chance for redemption is at hand as Monster Trucks Nitro 2 was just released today on the App Store. In most regards, it succeeds in delivering the type of game we were expecting in the first place.
The gameplay is similar to the first game. You tilt the device to tilt your truck while minding your speed and negotiating the terrain. Instead of onscreen gas and brake pedals, there's now a slider at the bottom of the screen that controls the speed. While it does give you more accurate control of how fast you travel, I found it awkward to use and prefer the older method. While you can just slide it to the fastest setting and leave it there, if you want to get truly competitive scores and earn all the medals you'll need to adjust your speed based on the layout of the track. The same type of nitro boosts from the original are scattered throughout the levels to give you a quick burst of speed, and tilting your device a full 90º allows you to do flips while in the air.
Another major gripe with the original was the serious lack of tracks. There is no sign of that problem here. There's 4 leagues with 4 tracks apiece, and a bonus league with another 4 tracks for a grand total of 20. Each track has Bronze, Silver and Gold medals to earn by beating an onscreen ghost truck. Instead of choosing which truck to use before each race, every track is locked in to 1 of 4 different vehicles. I think this is a smarter choice and each of the 4 monster trucks are very different from one another. The graphics have also seen a huge boost since the first game with much larger and more detailed truck models. The tracks feature many more interactive elements, and thankfully there's a variety of locales other than just desert sand.
If you found yourself disappointed with the first MTN game, then you should finally feel satisfied with this latest iteration. Monster Trucks Nitro 2 has impressive graphics, loads of content to play through, and an over the top fun factor that makes it a recommended purchase.
App Store Link: Monster Trucks Nitro 2, $2.99