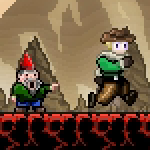 In February, we first spoke with Rocketcat Games' Kepa Auwae about the successor to Hook Champ. At the time it was described simply dubbed "Avalanche Game". Auwae has since released to us the first gameplay video and a name for the project: "Super Quickhook".
As described in February, Super Quickhook is a spiritual successor to Hook Champ. Yes, that means you can hook and swing your way through this game too. Unlike Hook Champ, however, Super Quickhook features infinite, randomly generated levels in a survival/last-longer type game. Your goal is to outrun (outswing) the avalanche for as long as you can.
Auwae also reports that you can search for and uncover "mysterious secrets". Here's a first look at the gameplay:
Super Quick Hook will also share many popular features of Hook Champ. If survival gameplay isn't your thing, there are unlockable, non-random racing levels with no time limit. The shop system and achievements will also be back as well as OpenFeint ghost races. There are plans for frequently released free new levels, and yes, fancy new hats.
The game will launch at $1.99 with a normal price of $2.99. As further incentive, they are working on giving early adopters exclusive hats. The game should be done in about a month. Follow Rocketcatgames' twitter for more news about the game.