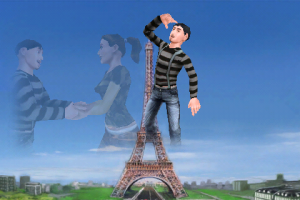 EA has been busy these past few weeks prepping for multiple iPad launches as well as a sequel to the popular Sims 3 for iPhone. Sims 3 World Adventures continues with much of the same format of the first version by building on the existing familiar gameplay.
Sims 3 gameplay revolves around customizing and controlling your Sim while meeting its needs, fulfilling its wishes and generally just exploring the world around you. World Adventures starts off just like Sims 3 with basic character customization (clothes, physical features, personality) but also allows existing players to import their character from the first version directly into the second.
Immediately after finalizing your choices for your character, a brief tutorial walks you through the basics of the game and how to keep your Sim satisfied. Sims have the same basic needs you're used to, between needing to eat, sleep, bathe and go to the bathroom as well as a goals and wishes. The goals pop up randomly, and act like mini objectives for what to do in the game.
The biggest difference in World Adventures is the scope of the game with added locations that you can travel to. If you loved the gameplay of the original but felt the original Sims 3's world was a bit small, this version is for you. Beyond your own town, there are 3 additional locations including Egypt, France and China. Each location has its own buildings, inhabitants, goals and tourist attractions. Also included are 52 new goals and 4 new mini-games. The mini games include ruin exploration, air flight, bartering and language games. Succeeding in these mini-games help you along the way. For example, the in flight mini game prevents you from getting air sick which will suck up valuable time at your destination while you recoup. Meanwhile better language skills add to your charm, improving your interaction with others.
The first Sims 3 for iPhone successfully trimmed down the Sims series to a solid handheld experience. World Adventures expands on that by giving you additional adventures, clothing and locals to explore.
App Store Link: Sims 3 World Adventure, $6.99