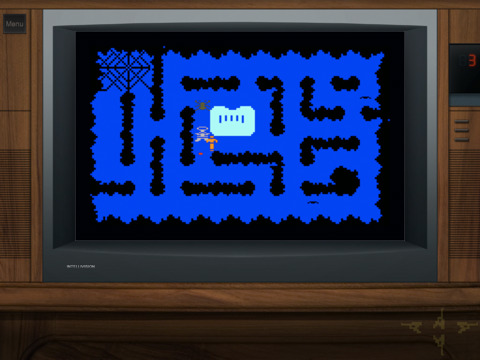 iPad screenshot
VH! Classic is bringing back six of the original Intellivision games from 1981. Intellivision for iPad will be launching on April 3rd alongside the iPad and will be delivering the following 6 games:
ASTROSMASH – Spin. Blast. And drop into hyperspace to avoid a killer asteroid shower. Power on. Attack computer engaged. Fire a quick burst at the alien antagonists. Got 'em!
CHIP SHOP GOLF – Fore! Select an easy or a hard course, or put together your own from a selection of 99 holes, many based on the most famous holes in the world!

NIGHT STALKER – You're on the run. Your attackers are relentless robots. Destroy one and it's replaced by an even smarter, faster robot. It's a nightmare.
THIN ICE – You control Duncan the penguin. Skate around the other penguins, dunking them in the pond. Avoid or dunk the seal and polar bears. Gobble shrimp cocktails for extra speed.
THUNDER CASTLE – Guide your knight through the deadly mazes of Thunder Castle, slaying evil dragons, sorcerers and demons as you go.
SKIING – Take a deep breath, dig your poles hard into the snow, push off…and you're speeding down a world class slalom course.
No word on when/if an iPhone version will be arriving, but the iPad version will cost $2.99.
Update: It appears an iPhone version is on the way.