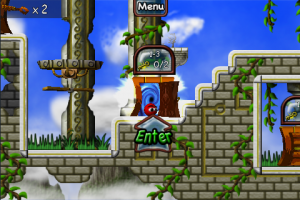 Team Phobic's sequel to their popular Bounce On platformer for the iPhone has almost arrived. Team Phobic has released the lite version of Bounce On 2 ahead of the full version's release scheduled for March 29th. The original Bounce On has been a consistently popular platformer for the iPhone that was first released December 2008 but has seen consistent update since that time bringing the total level count to 75.
The Lite version contains 3 levels of the new game which features a much enhanced graphical engine which allows for 3D sprites, special lighting effects and even gravity changes. Team Phobic has also adopted a special alternate "key" level system which opens up different paths/objectives on the same physical levels. Like the original, there are special hidden items, this time represented by "phobic coins". In order to make the game more accessible, Team Phobic removed the limited number of lives, now allowing you unlimited retries from the last checkpoint.
Full version features will include:
3 Worlds
Over 100 keys to collect
Boss fights
21 unique musical tracks
Use the accelerometer or touch controls
Plus+ Enabled
iPhone OS 3.0 is required and Team Phobic plans to update the Lite version with additional levels before the full version's launch on March 29th. Try it now for free.
App Store Link Bounce On 2: Drallo's Demise Lite, Free