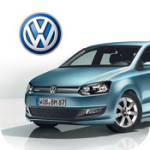 Late last year Volkswagen teamed up with Firemint to bring us Real Racing GTI [Free], a cleverly disguised free demo of Real Racing [$4.99] loaded with VW cars and branding that is still totally worth downloading if you haven't tried out Real Racing yet.
VW's most recent collaboration was just released today, this time working with Fish Labs to bring us what appears to be some kind of crazy economical driving edutainment game that appears to share a similar game engine to their previously released Rally Master Pro 3D [$4.99]. In Volkswagen Think Blue. Challenge [Free], instead of racing as quickly as you can, players are forced to drive economically.
As silly as this sounds for a video game, doing well is actually quite challenging. You start the game with a small amount of gas, and with each checkpoint you come to, you're asked an often obvious question about fuel efficiency to get more fuel. You then try to drive as far as you can with the amount of gas the game gives you. This means intelligent throttle management, coasting down hills, taking turns properly to not lose speed, and other economical driving techniques the game explains for you.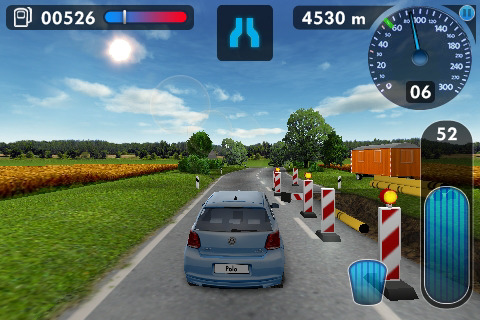 When you finally run out of gas, your distance is submitted to a global online leaderboard showing how far the world's most economical drivers have gotten in the game. Initially I just wrote Volkswagen Think Blue. Challenge off as a marketing gimmick, but after playing a few games it's really kind of neat how the game encourages highly technical driving. So often in driving games you're able to just go all out, bounce through corners and off other cars with little if any penalty at all and this is a nice, albeit fairly odd, change of pace.
Volkswagen Think Blue. Challenge is free, and who knows, you might even learn something about economical driving that could end up saving you money on gas in your own car. If you like the graphics in the game and how it calls out turns for you, be sure to check out Fish Labs' game this seems to be based on, Rally Master Pro which we posted a review on when it was first released.
App Store Link: Volkswagen Think Blue. Challenge, Free