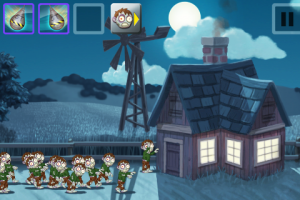 When you look at the lineup of iPhone games in the App Store you will notice a few genres that seem a little crowded. One of these is castle defense type games, so I was kind of surprised to see a developer working on one to join the ranks of the many other castle defenders such as the highly detailed 2D Knights Onrush [99¢] and Gameloft's 3D Castle Frenzy [99¢].
Gamedoctors, an independent developer form Germany, is hard at work putting on the finishing touches on a game they call, ZombieSmash! In an effort to have their game standout they're using the strangely popular (and arguably overdone) theme of zombie killing to draw gamers in.
After watching the trailer you can see the game has cartoony look and some amusing killing methods. ZombieSmash! also includes something they're calling the "splatter engine" that is powering the zombie ragdoll physics and excessive amounts of blood spewing everywhere. Gamedoctors is trying to get people to call it a survival comedy, but we'll have to wait and see if that sticks.
The game should hit the App Store in March for $1.99.