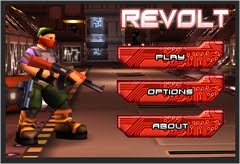 A title that has been getting a lot of attention on our forums, and rightly so, is the upcoming dual-stick shooter, Revolt, created by the three-man team of Kristopher Peterson, Jaap Kreijkamp and Sean Neville.
Revolt is an exquisite looking shooter that departs from the usual dual-stick model of unlimited ammo run-and-gunning by throwing a surprising amount of strategy into the mix. The gameplay promotes taking cover and rolling to avoid enemy fire, and ammo needs to be carefully managed across 15 weapons and 5 weapon types. A mixture of lasers, grenades and missile launchers serve to create some of the most impressive explosions and combat effects we've seen on the AppStore, too. To boot, Revolt seems to take its storytelling seriously, the gameplay spanning over 8 campaign levels and an impressive 20 survival arenas.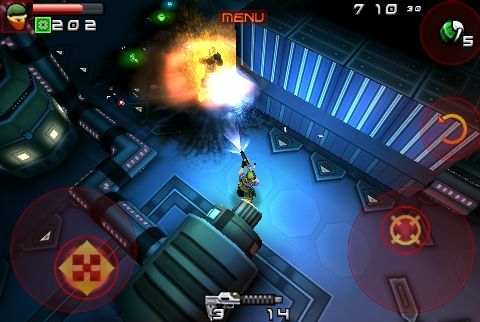 The story behind Revolt's development seems equally impressive, being largely a labor of love for Peterson who started development in May '09 on his own and was joined soon in September by Kreijkamp to form what has mostly been a two-man development team. Lack of manpower certainly doesn't show, as Revolt's stunning level design and attention to both lighting and shadows are really setting it apart from the usual shooter suspects. The full feature-list as provided by the team is as follows:
8 Story Levels and 20 Survival Arenas
15 Weapons
8 Unique Enemy Types
Weapon and Armor Upgrades
Advanced Gameplay
Destructible Environments
3 Difficulty Modes
Kickass 3d Graphics
Killer Music and Sound Effects
High Score Leaderboard
The developers have already promised to add to that sizeable feature list, with a character skill system, more levels, weapons and enemies, and OpenFeint integration scheduled as planned updates, so there is a ton of content to look forward to.
Be sure to check out the impressive trailer above and keep an eye on our Revolt discussion thread for further updates from the developer before its upcoming but as-yet unannounced release date.