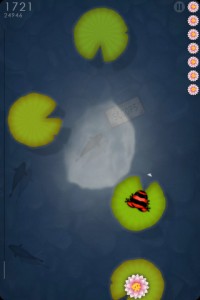 Nimblebit has made a name for itself in the App Store as provider of simple casual games in nicely polished packages. They are responsible for likes of Scoops, Textropolis, Sky Burger and Moon Drop.
Their newest game Dizzypad perfectly fits into that mold with a simple one tap mechanic. The goal is to simply get as far as you can while jumping from lily pad to lily pad. Each lily pad is spinning in place, and a well timed tap on the screen will launch you forward. The trick is to wait until you are facing the right direction and off you go. Sounds simple, eh?
Of course, like with any good game, it's harder than it looks and does a good job keeping you trying for higher score. Global scoreboard lets you see how you compare to everyone else. Jumping past a lily pad gives you an extra life, and achievements unlock cosmetically different frogs you can use.
The game is set in a nicely animated koi pond environment with some very nice touches. Nimblebit's fans have taken an early liking to it and I've had a really good time with it as well.
App Store Link: Dizzypad, $1.99