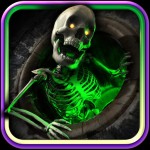 Last week we took a look at InMotion Software's dual stick dungeon crawler, Catacombs [App Store], which was just released mere moments ago. We're still working on our full review of the game, but here are some details from the preview:
Catacombs takes the familiar controls of the numerous dual-stick games, but instead of simply asking you to slay a never-ending supply of enemies, you have to make your way through the maze-like corridors of whatever evil dungeon your character found themselves in.

Along the way you will come across locked doors that must be unlocked with keys hidden inside the dungeon, as well as tons of gold and treasure. To assist you on your quest, the monsters of the dungeon randomly drop power-ups that do things like increase your movement speed, or offer different offensive bonuses.
Fans of dual stick shooters, dungeon crawlers, and Gauntlet will be right at home rampaging through the halls of Catacombs. Catacombs comes loaded with 24 dungeon levels, with a level pack that has another 24 forest levels available for an additional 99¢.
App Store Link: Catacombs, 99¢