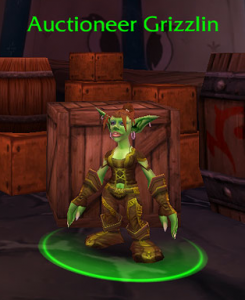 Blizzard forum poster Bornakk recently mentioned as a part of their efforts to increase the functionality of the World of Warcraft Armory that players will soon be able to access in-game auction houses through the web site itself, as well as an app that's in the works to manage your auctions on your iPhone.
Features and functionality of the app are still in the process of being worked out, and Blizzard admits that since this is a fairly complex addition to the integration seen with both the armory and the iPhone so because of this they don't have any kind of release estimate yet. Also mentioned is that parts of this service will be "premium-based", and more details on what exactly that means will be revealed at a later date.
Blizzard isn't exactly shy about charging players for in-game services between character server changes and sex changes, so it's anyone's guess as to where the "premium" will come in to play with this new app. Previously released Blizzard iPhone apps, World of Warcraft Mobile Armory [App Store] and Battle.net Mobile Authenticator [App Store] have been popular amongst our community, so we will be keeping a close eye on the development of the auction house app.
Thanks to everyone I used to play World of Warcraft with relentlessly IM'ing me about this today.