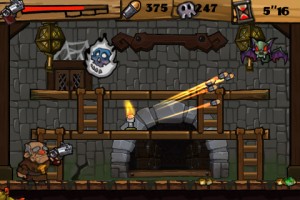 It's hard for me to resist a game with a ridiculous premise, and it's difficult to get more silly than this. In Ghosts'n Zombies [App Store] you play as a bushy-eyebrowed, cigar-smoking, shotgun-toting monk who apparently was dispatched from the Vatican to investigate a mysterious haunted chapel. Upon your arrival, you discover the church is absolutely loaded with rats, ghosts, zombies, and other demons. So, as an agent of the Vatican, what do you decide to do? Shoot everything that crosses your path of course.
The movement of your monk is controlled by tilting your iPhone, and shooting is just a matter of tapping the screen. Alternatively, you can drag your finger around to precisely aim your shots, which are then fired upon releasing your finger. Aiming your shots quickly becomes a vital component of the game, as apparently the Vatican sent you out on your mission woefully low on ammo. Killing multiple baddies in one shot causes them to rain loot for you to pick up which restores your ammo and slowly builds a meter in the top left corner of the screen that you can tap to briefly upgrade your weapon to a rifle, mini gun, and even a rocket launcher of sorts among others.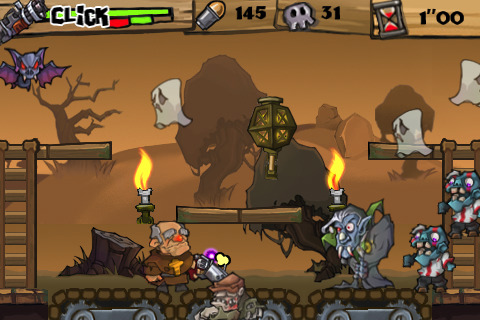 The more enemies you can kill at once, the more loot and points you get, but at the same time there is a delicate balance between holding off to be able to shoot multiple enemies while still allowing yourself a clearing to run to without getting hit. As you progress through the game, different environmental obstacles and enemies are introduced, with spice up gameplay even further. Ghosts'n Zombies includes OpenFeint, providing leaderboards for each level along with a bundle of achievements to earn.
One thing that's strange about Ghosts'n Zombies is that the paid version game comes bundled with Ad Mob ads on the menu screen. According to the developer, these ads are only going to be in place until the introductory sale is over, but they seem like a very odd thing to include regardless– Especially with how much people dislike advertising in anything they're paying for. Never the less, Ghosts'n Zombies is a fun shooter with a silly premise, and worth picking up if you can ignore the ads rotating on the main menu.
App Store Link: Ghosts'n Zombies, 99¢