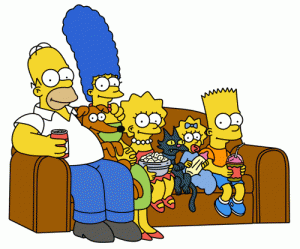 What started as a curious animated TV show 20 years ago has since turned in to a cartoon dynasty spanning nearly 500 episodes, nine comic book series, several video games, a theme park ride and even a movie along with the accompanied merchandising blitz of books, board games, t-shirts, and other swag. The Simpsons Arcade [App Store] for the iPhone is the latest entry in The Simpsons empire, and while it's not the most amazing game on the platform, it's one of the better Simpsons games– A bar set hilariously low by previous video games that take place in The Simpsons universe.
Before you get too excited, no, this isn't The Simpsons Arcade from the early 90's. Instead, it's a significant upgrade to the J2ME game. All of the graphics and animations seem to be substantially spruced up, although the same irritatingly repetitive music remains.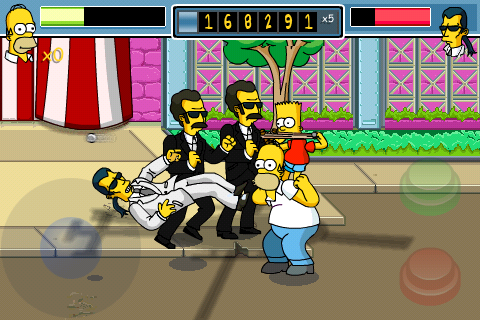 In The Simpsons Arcade, you play as Homer, who is on a quest to chase down a mysterious doughnut which also happens to be host to a USB flash drive that holds some kind of secret information that nearly the entire population of Springfield seems to be in on. Using an on-screen joystick and two buttons Homer can perform a variety of simple moves and combos on the seemingly never-ending supply of henchmen that are dead-set on keeping you away from the doughnut in question.
On the way you can pick up a few different weapons that can be used for a little while, along with a few power-ups which allow you to team up with another Simpson for a brief period of time. Bart climbs on your shoulders and shoots with a sling shot, Lisa appears and damages all the enemies on screen, and Marge sends homer in to some kind of tilt-controlled murderous rampage.
In the following gameplay video you can see these power-ups and weapons in action, along with the first two bosses in game: Chief Wiggum and Mayor Quimby.
The gameplay in The Simpsons Arcade isn't anything to write home about. There are much better arcade-style beat-em-ups on the platform with better animations and more depth such as the recently released OMG Pirates! and other similar games. However, if you're a fan of the series, The Simpsons Arcade comes with enough Simpsons references between familiar locales and popular characters as bosses that you'll likely enjoy playing it.
App Store Link: The Simpsons Arcade, $4.99