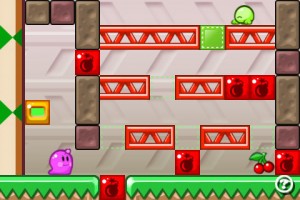 Raptisoft's Hoggy game is a great puzzle platformer that has stayed under the radar in the weeks since its release.
In the game, you control the title character Hoggy a strange blob-like creature whose girlfriend has been captured by the Moon Men. Your job is to collect the keys across 45 levels to unlock the doors to her release.
Each level requires you to collect all the fruit while avoiding baddies, bombs and other obstacles in your way. Hoggy is controlled well using tilt for movement and a single tap on the screen reverses gravity. Hoggy will flip from the bottom to the top of screen and vice versa with the tap of your finger. This maneuver becomes quite natural and is essential to your success.
The game's levels are varied with plenty of different enemies, obstacles and triggers along the way that keeps the game fresh. This video shows a couple of different levels you'll come across:
Hoggy offers great level designs, intuitive controls, and variety of enemies in a nicely polished package. A lite version offers 14 levels for you to get a feel for the game. Overall, Hoggy comes highly recommended.
App Store Link: Hoggy, $1.99, Hoggy Lite, Free