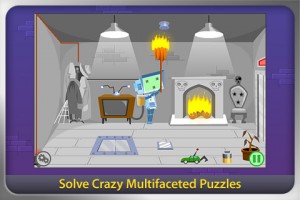 EA recently release a cute point and click adventure game for the iPhone called Mystery Mania. It's a charming adventure game that was originally released for mobile phones before it was ported to the iPhone.
The game offers 27 puzzle rooms throughout which you unravel the mysterious storyline. You play the role of F8, a robot with amnesia who must figure out what's going on. Touch controls offer the ability to interact with your environment and you must perform tasks in the correct order into order to solve each room. The game as been relatively well received in our forums with mostly positive experiences.
The only real criticism for some has been the relatively short length and ease of difficulty of the game, though it appears to be a good time during. Here's some of the Lite gameplay recorded by AppBank.
Two things, however, may convince you to give the game a shot. First, EA offers a free Lite version that gives you a taste of the game, and second, they have temporarily dropped the price of the game from $3.99 to $1.99 for the next 24 hours.
App Store Link: Mystery Mania FREE, Free, Mystery Mania, $3.99