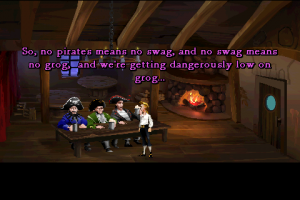 LucasArts' Secret of Monkey Island has been put on sale this weekend for only $3.99 (down from $7.99) [App Store].
Originally released in 1990, and having seen several revisions following the initial release including a port to the Sega CD, this Special Edition of The Secret of Monkey Island [App Store] is the best version of the game yet. It has been completely re-imagined with new art, complete voice-overs, and a new live instrumental musical score. The iPhone version really is an impressive effort.
The game has also seen a 1.1 update which fixes a number of 3GS related issues (graphics, crahes), audio bugs, and tunes the control acceleration and sensitivities.
App Store Link: Secret of Monkey Island: Special Edition, $3.99 (Weekend sale)