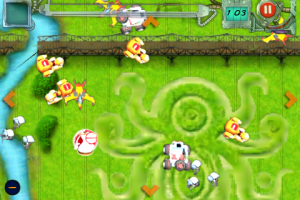 We met with Seth Isenberg this afternoon of Go Yo Mobile who showed me a sneak peek of their first iPhone game, Squash Em. The gameplay mechanics are simple, and similar to a lot of other games where you tap various things on the screen. What piqued my interest in Squash Em is the sense of scale between the different levels. It's reminiscent of the old 1970's "Powers of Ten" educational video put out by IBM and Ray Eames.
Bundled with a silly story, you play as a janitor that stumbled in to a shrinking machine in the molecular research lab of the university you work for. The narrative continues told through comic styled cut scenes and carries you all the way through the molecular level to a massive planetary scale. Once you complete the single player game, an additional game mode opens up where you're able to zoom in and out through all these levels searching for aliens to squish.

[ Full HD version | Low Bandwidth version ]
It's hard to say how much appeal this game is going to have, especially with the similarity in gameplay elements to the countless other touch games on the App Store. Power ups mix up the gameplay, and the additional game modes could add some replay value. Squash Em is due to be released sometime this fall.