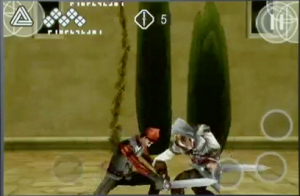 Ubisoft also took the stage at today's event and said they were putting the finishing touches on Assassin's Creed II for the iPhone. The game is due for release for console systems this November and will also be released for the iPhone on the same day.
Ubisoft emphasized the diversity of animations and sound effects implemented for dramatic kill scenes and also emphasized exploration and customization. Through the use of photo library integration, you can even put your face on the wanted posters found in the game.
The game itself looks to use a different engine than the original Assassin's Creed for iPhone and has an emphasis on acrobatics controlled by touch screen buttons. See the keynote video to see it in action:
Assassin's Creed II is due this holiday season.