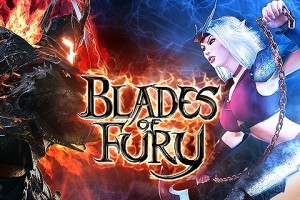 Gameloft wasn't joking when they said that Blades of Fury [App Store] was coming soon when I met with them at PAX, as it just popped up on the App Store mere minutes ago.
Blades of Fury is a fighting game obviously inspired by Soul Calibur featuring on-screen controls with a virtual D-Pad and set of buttons. In my brief time with the game at PAX I found that they worked well, but wasn't really sure how well the lack of precision inherent in most games with similar control schemes could cope with opponents of higher difficulty than the first few fights. Also included is a gesture-based system where you use the virtual D-Pad to move, then swipe on the screen to perform various attacks.
Here is our hands-on video from PAX:

[ Full HD version | Low Bandwidth version ]
Blades of Fury has ten characters to choose from, each with different weapons, attacks, and combos. ten arenas are included in the game, along with four game modes: Story, Arcade, Survival, and Practice. Blades of Fury can also be played two player utilizing two devices and a local WiFi or bluetooth connection.
Reactions to the game are being collected in a thread on our forums, and we will post a closer look at the game once we're able to spend more time with it.
App Store Link: Blades of Fury, $6.99