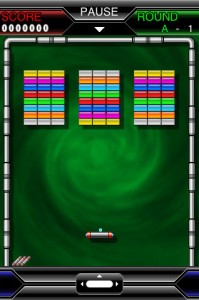 This is turning out to be a great weekend for retro gamers. Hot on the heels of C64, comes Taito's classic Arkanoid [$4.99] game for the iPhone and iPod Touch.
Arkanoid for iPhone brings back the 1986 brick-breaker with some additional enhancements.
Over 100 stages
Branching level progression
Many boss battles
VS two player mode
Arkanoid is the 1986 brick breaker that modernized Breakout. Arkanoid introduced special bricks, enemy ships, power ups and more to the classic brick breaking formula.
Here's a hands on video from AppBank with the Japanese language iPhone version. The U.S. version is otherwise identical.
The game certainly brings Arkanoid back with proportionally the same levels scales as the original arcade game. This means that everything will seem a bit small on your iPhone screen compared to other brick breakers we've seen. The size and color of the ball can cause it to get lost in some of the backgrounds of the game, but those can be turned "off" to give you a clearer view. The sliding touch control worked well and accurately, and the game played well. The game comes with 3 levels of difficulty.
Fans of the original will get a blast from the past as the sound effects are identical. Taito also promises big boss battles later in the game:
We obviously haven't played it far enough yet to encounter the bosses. The game also teases you with two unlockable menu options and also offers a head-to-head two player mode in which each player gets a paddle on opposite sides of the screen. Power-up pills picked up can negatively impact your opponent (shrinking paddle, for example).
App Store Link: Arkanoid, $4.99