Australian game developer TrueAxis has released a gameplay video for their upcoming Jet Car Stunts game for the iPhone. TrueAxis is also the development team currently working on the iPhone port of Space Tripper which was due to arrive earlier this year.
TrueAxis has a history of developing the True Axis Physics SDK which appears to be the basis for Jet Car Stunts. Jet Car Stunts is described as "a fun, over the top, 3D driving game, with massive jumps, mid-air hoops, floating platforms, spiral roadways, outlandish maneuvers and impossible environments." The game is said to feature two types of play modes:
Platforming – the player maneuvers the car from roadway to roadway, performing connecting stunts to reach the finish line.
Time Trails – the player races around stunt-filled circuits to beat the lap records.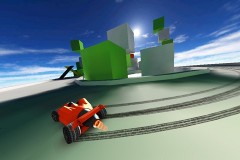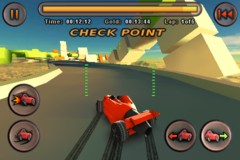 Controls are accelerometer based along with mid-air flight controls to nudge the angle of flight or adjust speed with air braking. The trailer video looks great, but with games like this we're left wondering how well they play.
Still, we're eager to find out. It should be "coming soon" for a launch price of $1.99.