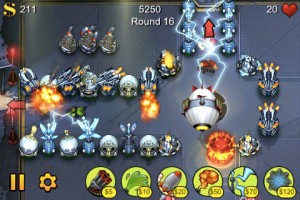 Wandering around the PAX floor today sniffing out iPhone news I came across Ash from Subatomic Studios showing off Fieldrunners [App Store] while handing out swag to anyone walking by. It's no secret that Fieldrunners is going to be a premiere title for the PSPGo's equivalent to the App Store. The game is obviously getting tweaked for the PSP, but the two new levels not found in the iPhone version of the game will be coming sometime this holiday season via downloadable content (DLC) at 99¢ per map.
If you haven't seen the two new maps, check out this trailer for the PSP version. Frostbite is the winter themed one, and Skyway is the air field map.
Another interesting point of the discussion may be of interest to other iPhone developers, according to Subatomic Studios, porting the game to the PSP Go was an easier transition than they initially expected. At the $250 price point it's hard to say what kind of a customer base will be available for Sony's App Store, but any competition to get Apple to streamline how things work on their own App Store is a good thing for everyone.
Subatomic Studios also has some new games in the works, although they were reluctant to talk about them. They said we could expect some announcements next year.