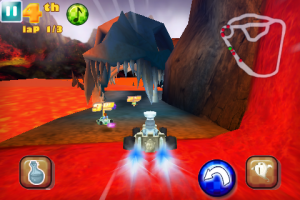 I admit when I first heard about Shrek Kart I groaned a little, as everything that has anything to do with the Shrek franchise in recent years has been decidedly mediocre. I found myself quite surprised to find that Shrek Kart may actually be a turning point for the Shrekniverse, although few things can undo those terrible sequels to the original (and fairly decent) movie.
Gameloft's Shrek Kart for the iPhone is very well executed, and like most other kart racers, clearly inspired by Mario Kart. In motion, the game looks almost the same, right down to the menu interface, power up blocks, and even the tracks are vaguely familiar. The power ups have been changed around, but all serve the same basic purpose from power ups found in the Mario Kart series.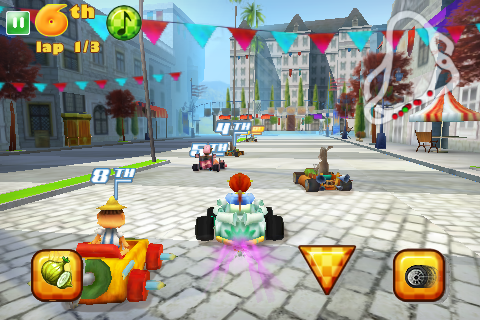 Since we'll likely never see a Mario Kart game on the iPhone, I'm perfectly fine with this. Like most iPhone racers, the game is controlled using the accelerometer and the controls work just as well as you would expect. Other functions like braking and using power ups appear as on-screen buttons.
Four game modes are included: quick race allows you to just load up the game and play a track, tournament has you playing a series of tracks for points, challenge mode offers several timed challenges like picking up a number of power up blocks as quickly as possible, and last, but certainly not least is arena mode.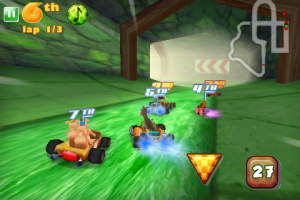 Arena mode works similar to Mario Kart's battle mode, except instead of using three balloons for your health, you have two scores: Thumbs ups and thumbs downs. You get a thumbs down when you get taken out by someone else's weaponry, and you get a thumbs up when you take someone else out. I strangely almost prefer this to Mario Kart battle mode, because you will never just be sitting there waiting for the game to finish in multiplayer. Regardless of how bad you're doing, you can at least keep playing.
Speaking of multiplayer, Shrek Kart will be released with local bluetooth and WiFi multiplayer. The following gameplay video showing a race and an arena match was recorded on a 2nd generation iPod Touch:

[ Full HD version | Low Bandwidth version ]
Shrek Kart is by far the best Shrek game I've played, but that's not saying a whole lot — but it's also a fairly competitive iPhone version of Mario Kart. While it lacks the internet multiplayer of Krazy Karts, Shrek Kart, oddly enough, seems to have a lot more character.