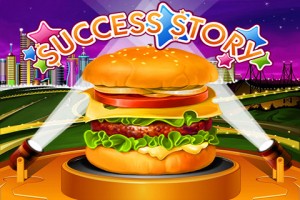 Success Story is a very nice time management game which challenges you to run various fast food joints.
The objective here is simple: fill customers' orders as quickly and accurately as possible. The happier the customers, the higher your profit margin will be, and most importantly, the faster you get to move on to the next fast food restaurant. Of course, it's not as simple as grabbing this and grabbing that. To fill an order, you actually have to assemble things using the right ingredients and in the correct sequence using a variety of different ingredients.
Success Story offers a good deal of content with 10 different restaurants for a total of 46 levels including a final supermax franchise level to be the ultimate fast food guru. Customers appear with their orders and wait patiently at least for a short while for their orders. Controls are straightforward: tap on the desired ingredient or food product. And if you choose the wrong ingredient, tap again to remove.
Ingredients appear on a layout of 11 tables which constantly appear and disappear throughout so you'll need to act fast. As I mentioned, accuracy is important. For example, to assemble a cheeseburger, the ingredients must be placed in the following sequence on the bun: patty, onions and then cheese. If any of that is in the wrong sequence, not only will your picky customer storm off, but your customer satisfaction will also take a hit if it happens too often. In order to proceed to the next level, you'll need to meet certain profit targets and a running tally keeps track of progress.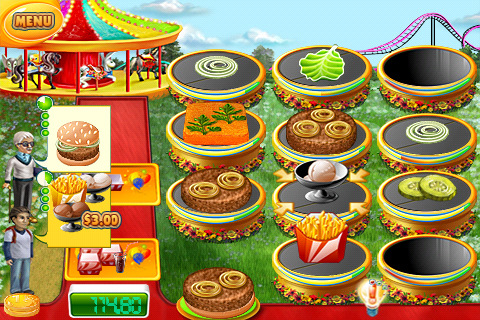 As levels are completed, profits are tabulated which can then be used in the upgrade store. The game also has an achievement system based on points earned (not profit) called the Grill Hall of Fame where you can be crowned anything from Chief Cook and Burger Professor all the way up to Burger Hero and ultimately Burger God.
Visually, it can be tough to make out what's actually in an order. For example, some customers request extra lettuce or cheese, and sometimes, that's not readily apparent from looking at the order. In addition, the game throws a wrench into things by including indecisive customers—customers who change their mind while you're preparing their order. For some, the gameplay may feel repetitive because you are constantly assembling things. But on the other hand, the diversity of items and the fast-paced flow of the game are both challenging and entertaining.
Success Story is a terrific game with high production values and a ton of content. The gameplay should appeal to those interested in time management games as well as those looking for a faster change of pace.
App Store Link: Success Story, $2.99