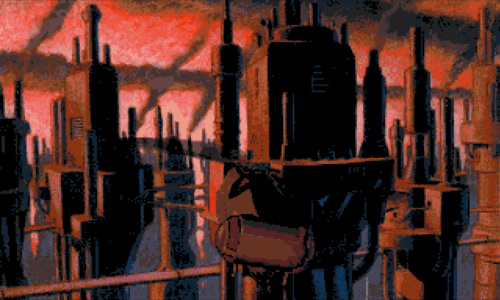 Long time adventure fans will be thrilled to hear that Revolution Software has informed us that they are forming a mobile game division called Revolution Pocket, and the first title to be released through the new division is an iPhone port of the cult-classic adventure Beneath a Steel Sky.
Originally released for the Amiga and DOS in 1994, Beneath a Steel Sky is a sprawling graphical adventure set in Australia in a dystopian future.  The story goes like this: the protagonist, Robert, crashed in the Outback as a child and was raised by a group of natives.  After growing into an adult, storm-troopers sent from Union City by its all-powerful computer, LINC, kidnap Robert and kill his tribe.  After entering the city dome, the helicopter transporting him crashes and he escapes into the city with his robot companion, Joey.  Robert's mission is to find out why he was wanted and what to do next.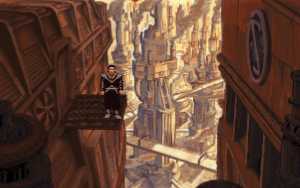 The game received very high praise at the time of its release and is widely considered to be one of the best adventure games ever created.  PC Gamer gave it 91% and called it "a must-buy for all serious adventure fans."  CU Amiga gave it 95%, calling it "one of the greatest adventures ever," while Simon Byron of The One gave it a 93%, saying, "I could sum this game in one word: Superb."
Revolution indicates that the game builds on the original, featuring new animated movies from comic artist Dave Gibbons who did the artwork for the original game as well as its introductory comic book.  This remastered iPhone release will feature a new context-sensitive help system and even higher quality audio than the original.
"The adventure genre is undergoing a renaissance, and we're thrilled to be bringing a revamped and remastered version of this classic adventure to a whole new audience," says Charles Cecil, founder of Revolution Software. Digital distribution has changed the game for developers, and it's great to be able to communicate directly with our audience. Revolution has a sizeable, passionate fan base which we value enormously. By tackling development and publishing duties ourselves, we can strengthen our relationship with them and retain complete commercial and creative freedom – not just in terms of content, but in terms of distribution and, crucially, pricing. The model allows us to ensure that our games offer incredible value for money. We're bringing high-quality, intelligent, narrative-based gaming to a whole new platform – some owners of which will have enjoyed the games before, and others who will be experiencing our titles for the very first time – and that's something I find tremendously exciting.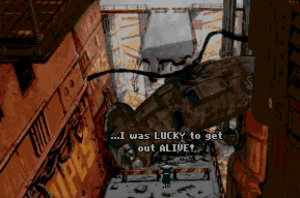 While I've not personally played the game to completion, I've spent notable time with it — and in recent years — on my Amiga 1200.  Beneath a Steel Sky was an amazing adventure experience 15 years ago, and holds up quite well today.  Whether or not you've played the original, if you're an adventure gaming fan keep a close eye on this one.  It should truly be a rare App Store gem when it makes its debut.
We'll take a closer look when the game goes live but, in the mean time, have a look at the 2003 shareware release (which was ported to the ScummVM engine), playable on most major platforms.
See the original game's five-minute intro video here.  Photos in this article are from the Amiga / DOS versions of the game.