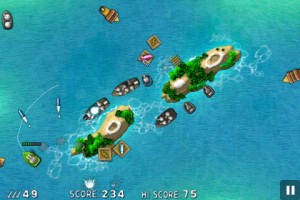 Coast Guard [App Store] is yet another fun nautical-themed game with controls similar to the other games in the Flight Control [App Store] spin-off genre. (Is that really a genre now?)
The goal of the game is to move your ship by drawing lines on the screen, and sink the enemies that are attacking incoming supply ships. Tapping on hostile ships fires at them, and as every friendly ship successfully docks, one of several power ups appear nearby. Rinse and repeat until your ship sustains enough damage to sink, hopefully beat your high score, and try again.
AppBank posted a gameplay video:
There's no indication as to how long the price drop will last, but at the current price of free, there's no reason to not download Coast Guard.
App Store Link: Coast Guard, Free
Update: The price may not have dropped to Free in all stores just yet. Be sure to look before you click Buy. If not, try again later.