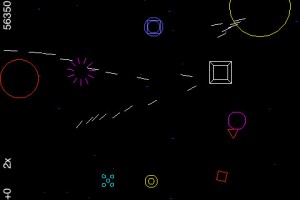 iPhone developer Matto recently released a free game called Jimney Chimney for the iPhone and iPod Touch. The game is perhaps best described as "if Eliss was a shooter".
Jimney Chimney's graphics are as simple as can get, line graphics with your ship represented as a cube. The game, however, was designed with the iPhone in mind with full support of multi-touch. Drag your ship around to dodge enemies, while tapping on the screen to fire. You can tap and hold in up to 4 different simultaneous directions to shoot. It really does feel like Eliss in both style and controls. Like Eliss, I found the best way to play is to set your iPhone down on the table to be able to use more fingers at once. Oh yeah, and it's also pretty fun.
The game also comes with a surprisingly good background music. We'd love to see the game fleshed out even further… but it's free and, even now, a strangely compelling package. We recommend giving it a try.
App Store Link: Jimney Chimney, Free