At last night's launch party, Freeverse previewed a number of their upcoming games including Warpack Grunts, Warp Gate, TrackZ, Flick Baseball and Thor.
While not all the presentation video has been released, we do have some early footage of a couple of these games.
Warpack Grunts is a squad-based shooter in which you control your pack of soldiers and lead them across various missions. Grunts are first equipped with a standard machine gun but can later pick up rocket launchers and sniper rifles. This basic video shows the early gameplay:
A second video that was shown at the launch event shows the sniper rifle as well as vehicular play (tank and helicoptor). The game is said to have gone gold master so we should expect it shortly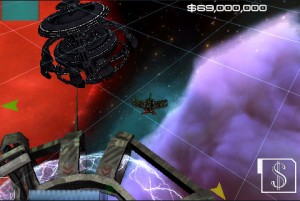 The next notable game Freevers previewed is one called Warp Gate. The game is described as a 3d space exploration / shooter / trading game that seems similar to Escape Velocity with a fully 3D engine.
The game is still under heavy active development, so many of the details are not yet complete. The game is said to include hundreds of different star ships and 30 different solar systems.
This early gameplay video shows the controls of the game, while a second video offers an overview of the game.
Warp Gate is due sometime in Summer 2009.