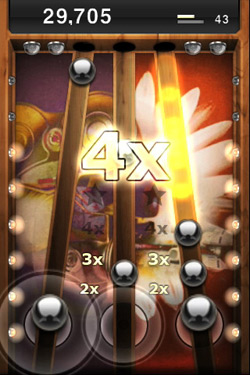 Fans of the Dave Matthews Band will be pleased to hear that Tapulous has just released Dave Matthews Band Revenge [App Store], the latest release in the highly popular Tap Tap Revenge music / rhythm game series.
The game brings the following features:
10 smash hits from Dave Matthews Band, including two hot new singles off their upcoming album: Funny The Way It Is, Shake Me Like A Monkey, Tripping Billies, Everyday, Ants Marching, American Baby, Crash Into Me, What Would You Say, So Much To Say, Two Step
New themes, graphics and effects, inspired by Dave Matthews Band videos and discography
Four addictive difficulty levels, each with unlockable boss tracks
Superior stability, multi-player mode, a Dave Matthews Band news feed, and Facebook Connect to flaunt your scores to the World
Fans of the series may also want to have a look at Tapulous' Tap Tap Coldplay [App Store], which was released last month.  It features themes and effects inspired by Coldplay's videos, along with the following tracks: Lovers in Japan (Osaka Sun Mix), Lost, In My Place, Fix You, Life in Technicolor II, Clocks, Yellow, Shiver, Speed of Sound, Viva la Vida, Viva la Vida (Thin White Duke Remix).
App Store Links: Dave Matthews Band Revenge, $4.99, Tap Tap Coldplay, $4.99