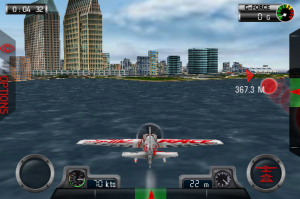 Back in October we got word that Artificial Life would be releasing Red Bull Air Racing World Championship, a game that simulates the increasingly popular air sports competition, for the iPhone and iPod touch.  The developer has just released a "lite" version of the app [link] for $0.99.  The full version will follow shortly.
In the Red Bull Air Race World Championship the world's best pilots compete in a high speed race against the clock, navigating low-level aerial tracks and flying between air-filled pylons known as 'Air Gates'. The 3D mobile phone game takes the player into the cockpit of a race plane and challenges them to compete in different race tracks around the globe. Just like in the real Red Bull Air Race, skill, speed and precision are the name of the game.
The developer lists the following features:
High quality customizable 3D race plane models
Realsitic control of planes supported by the accelerometer of the iPhone
Authentic simulation of the race environment
Action-packed race tracks modeled off the official Abu Dhabi and San Diego events
While the lite version offers but two planes and two race venues, the full release will offer much more, including races in Budapest, Detroit, London, Porto, Perth, and Rotterdam.  A taste of the full version can be seen in this gameplay trailer.
We captured a short video of the lite version in action (though, obviously, I'll not be receiving my lifetime supply of Red Bull anytime soon…).

[ Full HD version | Low Bandwidth version ]
Our forum members have been discussing the game in a lengthy thread where reactions are mixed but generally positive.  Member 'tosui' posted a particularly close look.  We'll post a review of the full release when it goes live in the App Store.
App Store Link: Red Bull Air Race World Championship Lite, $0.99