Here are a few $0.99-$1.99 games that we thought were worth a look.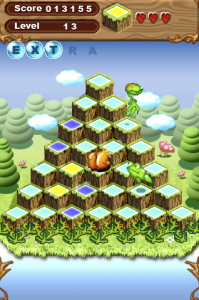 Qbix – $0.99 [link]
Vega Mobile's Qbix is basically Q*Bert in the forest.  Gone are Coily, Ugg, and Wrong-Way, replaced by various enemy plants and woodland creatures that strive to do in our hopping, hero squirrel.
The game is played using touch control (directional swipes) and features 32 levels.  And although we've heard that an official Q*Bert game is coming, Qbix is a good option for those needing an 80s retro isometric fix.
Though more nature than Day-Glo, Qbix delivers something close to the feel of the original.
Sheep Abduction – $1.99 [link]
Sticky Studios' Sheep Abduction is a lot more coherent (and fun) than the game's bizarre premise.
Planet Zurq 340 is dying! They need a single drop of water to save their planet. Luckily, they've found a planet with lots of water: Earth!  Since Zurqs are very polite they need to ask permission from the local inhabitants: humans. In order to establish contact with Earth, crop circles need to be created. Sheep seem to be the ideal candidate to chew crops.  So…In order to save the planet, you will need to move around sheep to their destination!
Premise aside, Sheep Abduction is quite a polished game that's both enjoyable and challenging.  The alien craft can only pick up sheep of a particular color at a time, after having grabbed a floating, color-specific "beam enhancer."  Grab the enhancer, grab the sheep, and get them to the target area before the timer runs out.  Chaotic, goofy, and enjoyable.  And while the game's price has danced about quite a bit since launch, it's currently well priced at $1.99.
Mini Golf Ace – $1.99 [link]
Mini Golf Ace from three-2-one GmbH is an 18 hole mini golf game that's rather sparse on scenery but solid on gameplay.  You and up to four friends have six tries each to negotiate the course obstacles and get the ball into the hole.  The game features touch / drag controls for aiming and swinging and accelerometer controls for setting camera angle.
While the visuals are nothing close to realistic, the game is a fun, pick-up session of mini golf.

[ Full HD version | Low Bandwidth version ]