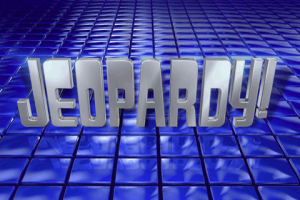 Fans of everyone's favorite game show will be pleased to hear that Sony Pictures Television has just released Jeopardy! [App Store] for the iPhone and iPod touch.
This…is…JEOPARDY! Put your knowledge to the test in this exciting new game created for the iPhone and iPod touch! Pick a category and dollar amount and answer clues written by Jeopardy writers. Buzz in quickly and answer correctly to watch your earnings rise, then hum along with the classic Final Jeopardy theme music while you respond to the final clue. Play America's favorite quiz show today!
Features listed by Sony:
Use the touchscreen to write your name on the podium, just like a real contestant on Jeopardy!
Play in Landscape mode so that you see the contestants and the categories on the same screen
Includes real sounds from the game, including the classic Final Jeopardy Music!
Listen the famous voiceover "This…is…Jeopardy!" from the famous Johnny Gilbert when the game starts
Create your own custom contestant
Packed with over 1500 clues, enjoy hours of entertainment!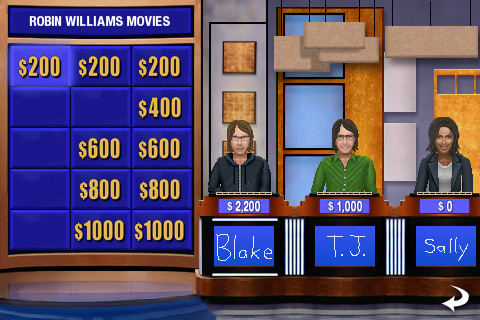 Each round of the game is played across three different categories (as opposed to the TV show's six) with answers at five different dollar amounts for each.  In normal play (where there are three levels of difficulty), when you pick an answer a timer begins ticking down and you have the option to respond or pass–but choose quickly, as at any moment another contestant may buzz in.  For each answer you choose to respond to, three question choices are presented.  The multiple choice approach makes for a rather simpler game than the TV show, but is not a surprising move for a computer edition of the game.
Jeopardy! also features a single-player mode which is the same game, but lacking other contestants.
The graphics are nothing to write home about, but then that's not the focus of the game, and the authentic audio does add nicely to the experience.  (And who hasn't wanted to write their name on that glowing blue screen?)  In all, fans of the 25 year old quiz show will likely find Jeopardy! for the iPhone to deliver an enjoyable mobile take on the game.
App Store Link: Jeopardy!, $4.99