Firemint CEO Robert Murray
We've been closely following Firemint's Real Racing game since its initial preview back in August 2008. We were very impressed by the brief clip that was provided at that time and have been anxiously awaiting its release.
Now, seven months later, we are finally approaching the game's release, and despite the number of existing of iPhone racing titles, Real Racing seems even more impressive than ever. Since that time, Firemint has also released Flight Control which is a wonderfully polished and addictive original iPhone game. While Flight Control was a much simpler project, the quality of that title makes us believe that Firemint's Real Racing will deliver on the hype.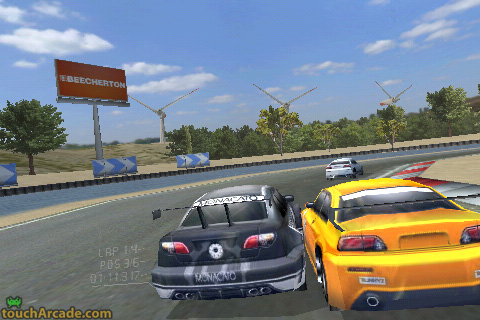 Firemint's CEO Robert Murray has provided TouchArcade with this exclusive interview to reveal some details about his company, the game, and why Real Racing should stand out amongst the competition. They've also provided new screenshots and a new high definition video:

[ Full HD version | Low Bandwidth version ]
Both Robert Murray and Alex Peters of Firemint have also been active in our forums and have also agreed to field some of our reader's followup questions in this forum thread.
Q: Thanks for speaking with us Robert. Can you tell us a little about Firemint, the company's background. How long you've been around etc…
 
Rob: I founded Firemint in 1999. I'd been working on PC and console games for a medium sized game development company and decided to start my own business. Initially I focused on providing high-end technology products to game development studios, but in 2001 I had the opportunity to develop a Nintendo GBA game, Nicktoons Racing, which led to further titles. Firemint really took off in 2003 when we started recruiting additional staff. 
Since then we've had growth bursts where we sometimes doubled in size in a short period. We now have 40 full-time people in our team and close to 30 published titles, mostly on mobile phone,  including three years of EA Sports Madden NFL 3D, The Fast and the Furious: Fugitive and Pink Slip, FIA World Rally Championship and also The Sims DJ for click-wheel iPod.
Our core business is still developing games commissioned by top tier publishers, however we are increasingly working on original IP, both for ourselves and for our publishers.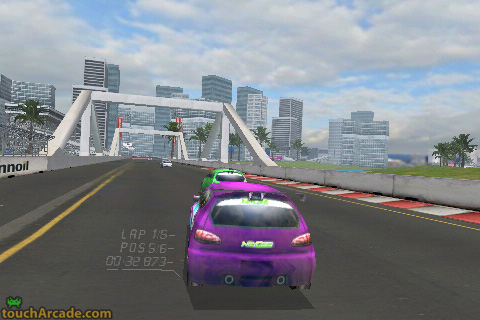 Q: So, getting straight to the heart of the matter, as you know, there's no shortage of racing games in the App Store. Tell us about Real Racing and what makes it different or better?
 
Rob: Well, Firemint Real Racing is a high calibre pro racing game. I haven't seen anything like that on iPhone yet. I think there are a lot of racing games on iPhone because it is a genre that the platform lends itself to very naturally. Similarly you will find lots of great first person shooters on the PC, simply because the controls work so elegantly.  I think this is a great thing for racing fans with an iPhone.
As for what makes Real Racing special, we have a lot of unique features that I think people are really going to love.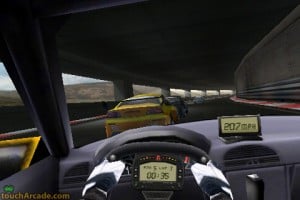 For example, we have a cockpit view with animated driver and integrated instrumentation.  In other camera views we have a HUDless UI (that is, there is no head up display cluttering the user interface).
The game has amazing graphics and effects like lighting, specular highlights, filtered light effects, shadows, reflection mapping, smoke and skid marks. Our engine delivers extremely high polygon and texture throughput, optimised through years of work on lower spec'd hardware. The control system works the way you want it to; holding it in front of your face, in your lap, upside down in bed or using the touch screen if you choose.  We've brought together a brilliant physics engine with the right camera and control systems to produce that elusive 'feels right' vibe.  The game has a massive amount of high definition content , with 12 uniquely built tracks, 36 cars and numerous online leagues.
The other unique aspect is the connectivity built into the game [with YouTube and other social media networks].
However, what's really important to Real Racing is not just the unique features, but how polished they are and how well they fit together into the whole game.  Some games feel so polished, so whole and complete that everyone appreciates them, whether they are fans of the genre or not. When you deliver a game like that, all people can say is "it's great, you have to play it", they can't always explain why in terms of features. That sort of game, and that sort of polish is the holy grail for us and it is what we want to achieve with Firemint Real Racing.
Q: We've seen demos at YouTube integration and you mentioned other social media connectivity?
Yes, you can upload a YouTube video of your best laps, you can rank yourself worldwide or against your friends on Facebook, you can play in ongoing leagues against global competition to battle for a place in division 1.
We've developed a platform called cloudcell.com to support all the web integration we wanted to include, so that the game becomes much broader than just playing on your device. It's a web-based technology that allows us to plug in social media network APIs on one side, games on the other side, and join them up with a customised game-specific web site in the middle.
We didn't want to reinvent the wheel by building friends lists or video players when there are already brilliant solutions out there. Instead we're incorporating the existing social media and user generated content services that people already use and love, like YouTube and Facebook. The beautiful thing about our solution is that it can easily grow to incorporate new platforms, for example at the moment we're looking at the best way to incorporate Twitter.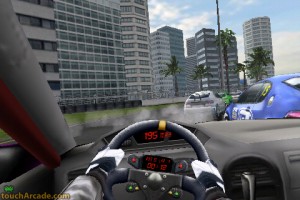 Q: Can you detail the control systems available? Accelerometer obviously…
Rob: Accelerometer steering is definitely our favorite control method, and we have really done some amazing stuff with that. However you can also touch to brake, and you can choose whether to use braking assist or not.
We have the option for touch acceleration and we also have the option for touch steering for those who don't want to use the accelerometer control. The full detail of the control systems are still to be finalized as we are still focus testing. Controls are something that we will be tweaking right up until release as it is so core to the game.
Q: Where there any particular gaming inspirations in developing Real Racing?
Rob: Well each team member has their own favorite console racers, but we get a lot of inspiration from Gran Turismo and Race Driver Grid. More broadly however, our inspiration comes from racing itself in its purest form. We want a full pack of closely matched cars jostling for position as you gradually gain ground and ultimately win the prize. We want to capture that authentic and satisfying feeling of a race well won and that 'just one more go' feel.
For our Christmas party last year we took everyone in the studio go-karting. It was a really pure experience, and a real joy for all involved. There is a natural rush you get as you chase down the next closest kart, gaining time here, losing it there. It intensifies your focus. The go-karting was a real inspiration for us, it was unbelievable fun and pure.
Q: Did you have problems optimizing the game for 1st Generation iPod Touch vs the iPhone vs the 2nd Generation iPod Touch?
Rob: Optimising has been a big and ongoing part of this game's development. We are squeezing a whole lot of performance out of these devices. We didn't encounter any differences between the devices that caused any dramas.
We are used to working with sometimes very limited mobile phone hardware and dealing with a massive amount of platform incompatibilities. iPhone and iPod Touch are a joy to work with by comparison.
Q: What can you tell us about audio and music in the game?
Rob We're going to include licensed music tracks from a mix of bands, including some of the rockier ones you have already heard in the trailers we've put out. We're also working with an audio guy who specialises in console car racing sounds to make sure that the engine and other car sounds are spot-on, and there's an ambient soundscape of crowds cheering, announcers and so on.
The sound uses all of Open AL's 3D surround capabilities to fit right in with the "real" theme. There is a lot of tweaking up and implementation still to go in the audio so don't expect too much from our early builds.
Q: Can you comment on the price?  Release date?
Rob: I can't say very much about this yet, except to say that this is a highly polished game that was almost a year in development and is being compared to Sony PSP and Nintendo DS quality. We want to keep the price affordable but we also need to make back some of the money we've invested! So it's a safe bet to say it will be a fair chunk more than 99 cents 😉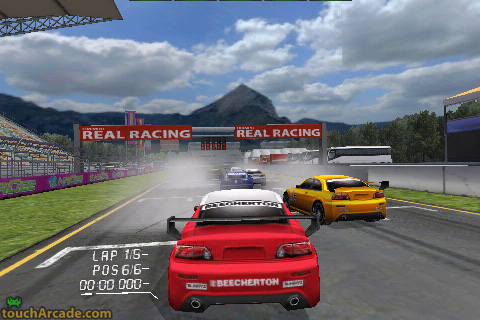 Although we announced Firemint Real Racing a while ago we intentionally never named a specific release date because we didn't want to create an artificial deadline for ourselves, and then either rush the game out the door before it was finished or disappoint the people waiting for it. However, it is now at a point where we can announce an April release.
Q: Any inclusion of Multiplayer in any form?
Absolutely, the game includes an extensive array of connected features. It recently won the International Mobile Gaming Award for Excellence in Connectivity. So there are a number of ways to compete, and more uniquely to take the competition into the web with our cloudcell.com technology. This technology enables YouTube uploads of your best laps, rankings, online competitions and integration with Facebook and iGoogle.
Our favorite form of multiplayer is league play.  You will be able to compete in multiple leagues online being promoted or relegated from divisions based on your championship winnings. The championships can be played out asynchronously (in your own time) as long as you submit your results by the deadlines. League play will see an ongoing battle to rise up the ranks and you will always be matched up to competition at your level.
Q: How does the iPhone compare to the other mobile platforms you've worked with?
It's definitely one of the easiest and most robust development platforms we have ever encountered. The guys love coding for it. It's also an incredibly powerful device, particularly compared to the mobile phones we were developing for a few years ago.
Thanks Rob. We appreciate the details about the game and are sure our readers are also looking forward to it.
If you would to ask Rob more questions please post in this thread. Rob is about to jump on a plane from Australia to San Francisco for the Game Developer's Conference so will not be able to answer questions immediately. He did promise that he would be able to get to the questions this weekend, however.
Meanwhile, we've included a bullet point list of features from their press release for reference:
Boasting via Broadcast – Upload video replays of your laps to YouTube with the push of a button.
Unique In-Car View – Cockpit view with animated driver and instruments showing race data.
Control Options – Firemint Real Racing includes combinations of accelerometer or touch-based steering, automatic or touch-based acceleration and automatic or touch-based braking.
Pick Your Ride – 36 cars, 12 tracks, four modes of play, three classes and three divisions provide exciting variety and replay value.
iPhone Racing Simulator – Players can experience the thrill of racing anytime, any place.
Connected Car Racing – In addition to YouTube functionality, players can sign up for league racing online and use social media networks to compare their times with friends.
Advanced AI – Opponents each have different personalities affecting the way they compete. Some are aggressive, some are careless, and they all want to outrace you!
Real Racing should be out sometime in April.