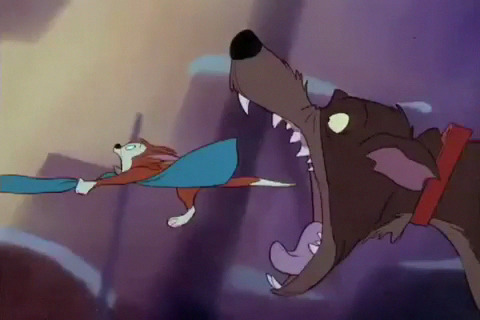 Don Bluth Films, in association with Iconic Apps, has released Banjo The Woodpile Cat [App Store] adventure game into the App Store. Don Bluth was responsible for the animated arcade classics Dragon's Lair and Space Ace.
Join Banjo and his friends through different adventures in the Banjo the Woodpile Cat Game. Lead Banjo through different scenes from the movie. Simply press the flashing icons/lights to advance to the next scene.
But watch out – Banjo, like any cat, only has nine lives to make his way though all the stages in the game
The title movie was originally released in 1979 and was directed by Don Bluth. The iPhone game adapts the movie into an animated adventure following the same formula as Dragon's Lair, and requires the player to react quickly to flashing objects on the screen progress the story.
Early responses to the game have been relatively poor, however. The game involves watching scenes from the original movie. At random points, certain objects on the screen with flash. Your job is to simply tap on the object quickly enough and the movie scene will continue. If you miss, the scene ends and you've lost a life. In our brief time with the game, it also had some bugs that resulted in the app crashing or a menu button to be unresponsive. All in all, we can't recommend this game, but we are mentioning it for its historical significance.
App Store Link: Banjo The Woodpile Cat, $1.99