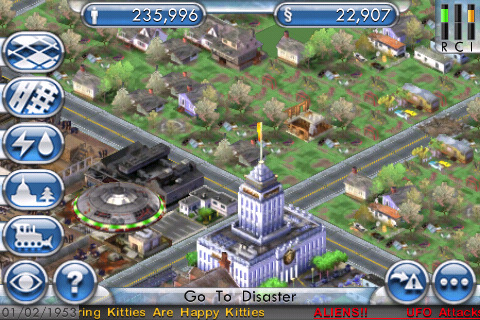 EA's SimCity for iPhone is now available in the App Store [link] and is priced at $9.99.
Create and control your urban empire with more power than ever! It's the SimCity™ you know and love, re-created for your iPhone™ to give you the most realistic SimCity experience. And, if you're new to the Sims universe, prepare yourself for one of the most engaging, addicting games you've ever played.
Features include:
Intuitive Touch Controls
Tutorial to ease you into developing your first city
Starter Cities start you in different types of cities.
Manage all aspects of a thriving city, including the budget
Destroy it all with 5 Disasters – UFO, Fire, Tornado, Earthquake, Toxic Cloud
Place Parks, Landmarks, public works and various different special buildings
Public and private transportation with roads and rail
Public works management: Water, Power, Garbage and Recycling
Place 6 Zone types
Enact Ordinances to satisfy petitioners
Never play the same game twice
3 Difficulty Settings
Small, Medium and Large Cities
Customizable Procedural Terrain Generation
Complex simulations that adapt to your every move
EA has said this is a full version of SimCity and not a stripped down mobile version.
App Store Link: SimCity, $9.99