Bone Gravy Games has recently released Paradise: The Beginning [App Store], a top-down, post-apocalyptic, nuclear-powered vehicular action game for the iPhone and iPod touch.  And it's got Zombies.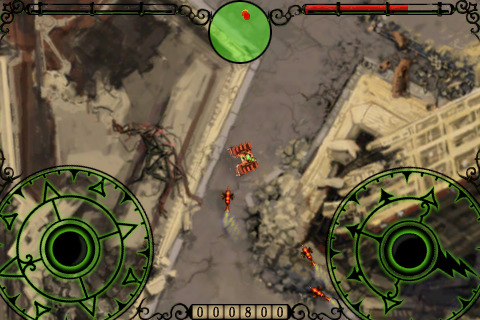 Nuclear War. Devastation. What's left of the landscape is inhabited by mutants and zombies who continually battle over the meager remains. One zombie in particular has developed the skills to stay alive in a mutant-infested city – you. Defend yourself and your power source from the onslaught, and you might just live to be undead another day!
Features as listed by the developer:
Beautiful, hand painted wasteland which will be your grave, or your Paradise
Four radioactive weapons you must use to lay your foes to rest
Six aggressive enemy types, bent on your complete destruction
Unique dual analog sticks controls for precise and responsive gameplay
Adrenaline pumping music and sound effects to inspire you in your quest
I've spent only a brief time with this title, but it plays rather nicely.  The player controls the attack vehicle of the aforementioned "one zombie in particular" by way of two onscreen thumb-wheels that provide accurate, fluid control.  Left thumb drives, right thumb shoots.  The player drives the attractively rendered streets of a post-apocalyptic city, taking on an endless stream of death machines.  The backdrop scrolls very smoothly and the player's vehicle has a nice bit of momentum / drift to it.
It's a fun, simple game, but has been criticized by our readers for being a bit shallow.  There's just the one level and the enemies keep coming.  There's no highscore tracking, either.  If this game is indeed just "The Beginning," then we look forward to some added depth as the developer evolves the title.
For $0.99, though, it's a fun little twitch shooter.
App Store Link: Paradise: The Beginning, $0.99