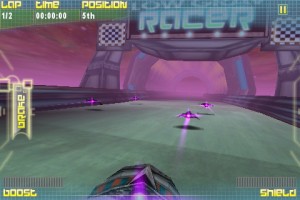 CobraMobile has released Low Grav Racer to the App Store overnight. While they do offer an official trailer, we've recorded this gameplay video showing off a couple of the early levels.
First impressions are quite positive. The controls are accelerometer based and are a bit on the sensitive side so take some getting used to. Weapons, speedups and shield power-ups are available as you race your way to the finish line. The game involves racing against the computer opponents in single-track play or competition modes.
The developer lists the following features:
– Amazing 3D iPhone graphics.
– Blisteringly fast and smooth game-play.
– Single play or Competition Play.
– 12 planet based tracks.
– Different ships and Race classes.
– Amazing soundtracks & 3D spatial sound.
– Missles, Mines and Mayhem.
Blake will be spending some time with this title to provide a more thorough review soon.