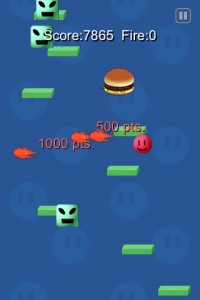 Sunflat has released the deluxe version of PapiJump called PapiJump Plus [App Store].
The $0.99 deluxe version of PapiJump offers multiple levels, a variety of background colors, and local high score ranking features. The different levels include:
NORMAL: Same as the free version of PapiJump
HARD: Hard from the beginning
FALL: The platforms fall when Mr.Papi jumps on them
TOUCH: Touch the screen to control Mr.Papi
RIGHT: Mr.Papi is going towards the right
MOVE: Platforms are moving
DOWN: Mr.Papi is getting down platforms
ENEMY: Mr.Papi is chased by enemies. Shoot them wirh a fireball
The original PapiJump is a strangely addictive game that we previously looked at. As a free download, it's a game everyone should try. This deluxe version offers fans of the game more variety for only a small additional price.