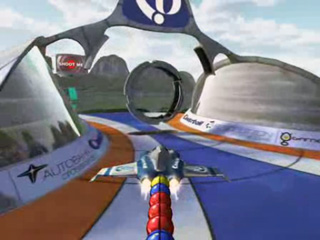 Swedish game developer Resolution Interactive has released a preview of their forthcoming flight / action / sports hybrid Clusterball 2.
Clusterball 2 for the iPhone is a conversion of the developer's existing PC title (pictured) and offers unique, fast-paced gameplay that, as the demonstration video illustrates, translates well to the iPhone's accelerometer-based control systems.
Clusterball is a high-paced, adrenaline pumping flight sport demanding skill, tactics and ball control – designed as a first person shooter but without the splatter and gore. Played in midair with high tech aircraft, your objective is to gather and score as many balls as possible while trying your best to keep your opponents from doing the same. As your tail grows longer, your ship will gradually slow down, making you more vulnerable to attacks. Thus, each extra ball gathered involves a calculated risk.
According to Resolution Interactive, the game will feature various online components including gamer profiles, public scoreboards, and challenger features and sport graphics that are above and beyond what is available for the iPhone today.
Clusterball® 2 for iPhone will aim to make a mark on the iPhone market by offering the highest quality of graphics and maneuverability through the gyro controls. With a fast-paced gameplay and obstacle rich environment, Clusterball® 2 for iPhone will be an adrenaline filled experience for young and old alike.

"Clusterball® 2 for iPhone is very exciting, and will be a new start for us." Say Lars Lindstrom, founder at Resolution Interactive. "We look forward to present our new demo as well as our coming titles at the GC convention next week".
Resolution Interactive will be demonstrating the title at next week's Game Convention in Leipzig Germany where we hope to hear additional details including an App Store release date.  Stay tuned.
A demo video of the PC version offers an additional glimpse at gameplay.
[ via Pocket Gamer ]